Grocery & Specialty Food West Trade Show 2023
Grocery & Specialty Food West (GSFW) is an annual trade show and exhibition that takes place in Western Canada. The event is organized by the Canadian Federation of Independent Grocers (CFIG) and features a wide range of exhibitors showcasing grocery and specialty food products, including fresh and frozen foods, baked goods, snacks, health and wellness products, and more. The show provides an opportunity for retailers, buyers, and industry professionals to connect with suppliers, explore new products and trends, and learn about industry best practices. The event also includes educational seminars, workshops, and networking opportunities for attendees. Grocery & Specialty Food West is considered one of the largest and most comprehensive trade shows in Western Canada for the grocery and specialty food industry.
CHFA Tradeshow is an annual event held by the Canadian Health Food Association (CHFA), a non-profit organization dedicated to promoting natural health and organic products. The tradeshow provides a platform for manufacturers, distributors, retailers, and industry professionals to showcase their products and services related to natural health, organic food, and supplements. It is considered the largest trade show in Canada for the natural health and organic products industry and attracts attendees from across North America. The event typically features educational seminars, keynote speakers, and networking opportunities for attendees to learn about the latest industry trends and connect with other professionals in the field.
BC Home & Garden Show 2023
BC Home + Garden Show is an annual event that typically takes place in Vancouver, British Columbia, Canada. The show is focused on all things related to home and garden improvement, featuring exhibitors, speakers, and demonstrations covering topics such as renovation, landscaping, interior design, and home technology.
At the BC Home + Garden Show, visitors can explore a variety of exhibits showcasing the latest products and services in the home and garden industry, as well as attend seminars and workshops led by industry experts. The event also typically features special guests, including celebrity designers and renovation experts, who share their insights and expertise with attendees.
Overall, the BC Home + Garden Show provides a great opportunity for homeowners and garden enthusiasts to learn about the latest trends and innovations in the industry, as well as connect with professionals who can help them achieve their home and garden goals.
The HAL Vancouver Alaska Cruise & Travel Show 2023
Holland America Line (HAL) offers a variety of Alaska cruises departing from Vancouver, Canada. These cruises typically operate during the summer months, when the weather is warmer and the days are longer.
HAL's Alaska cruises offer passengers the opportunity to explore the stunning natural beauty of Alaska, including its glaciers, fjords, and wildlife. The cruise line operates several ships that sail to Alaska from Vancouver, including the Eurodam, the Koningsdam, and the Nieuw Amsterdam.
Depending on the itinerary, HAL's Alaska cruises may stop at ports such as Ketchikan, Juneau, Skagway, and Sitka, allowing passengers to explore these historic and picturesque towns. Excursion options may include hiking, whale watching, fishing, and other outdoor activities.
If you're interested in taking an Alaska cruise with HAL departing from Vancouver, you can visit the HAL website to learn more about the available itineraries and ships, as well as pricing and booking information.
 SIGGRAPH 2022 is the premier conference for computer graphics and interactive techniques worldwide. This year, we gather in person in Vancouver and virtually to celebrate our diverse, global community and the stories, innovations, and industry advancements that make us SIGGRAP
Grocery & Specialty Food West 2022
Grocery & Specialty Food West is the premier and must-attend B2B grocery & specialty food show of the year! The grocery sector is all about building relationships to grow your business, and this is the only show that brings together all facets of the grocery trade together under one roof. The exhibition floor features over 80,000-sq.-ft. of dedicated pavilions focused on key grocery & specialty categories from front end to back end including equipment, technology, food services, garden, financial and insurance.
BC Home & Garden Show 2022
2021 Chinese Restaurant Awards
Award Ceremony Celebrates Culinary Excellence with New Signature Dishes
Winners of the 13th Annual Chinese Restaurant Awards Announced
The 13th annual Chinese Restaurant Awards ceremony today gathered over a hundred and fifty guests and award winners at the Vancouver Club in Downtown Vancouver, presenting 41 awards to honour the culinary excellence of Chinese and Taiwanese restaurants, as well as their emerging culinary influence in Metro Vancouver.
"Today is a celebration of togetherness and shared vision for a brighter future, after overcoming major challenges from the pandemic since Spring 2020," said the Awards' President Craig Stowe. "We believe it's time to put a spotlight on these outstanding restaurants, and award winning signature dishes curated by our team of culinary judges. The Awards is proud to continue promoting Vancouver to eager diners and returning tourists, as having the best Chinese food in North America."
[ 2021 Chinese Restaurant Awards ]
INSPIRE Award
Recipient: Underwater Harvesters' Association
Ocean Wise Awards
2 award-winning restaurants:
Hotpot Palace 168-7911 Alderbridge Way, Richmond (604) 270-2588
The Fish Man 8391 Alexandra Rd #1170, Richmond (604) 284-5393
COLLECTIVE Awards
Nine recipients:
Light Up Chinatown "Taste of Chinatown" 2021: Vancouver Chinatown Foundation
Feast of Fortune: St. Paul's Foundation
Behind the Plexi 2021: Shelley McArthur Everett and Brad Roark
Chopstickstoheroes 2020: Alex Bin Wang, Dachen Yang, Jason Li, Chopvalue and Fantuan
Critics' Choice Awards – Game Changers, presented by Canola Eat Well
4 award-winning restaurants
(In alphabetic order of restaurant name)
Chef's Choice Chinese Cuisine 955 W Broadway, Vancouver
iDen and Quan Ju De 808 Cambie St, Vancouver
Old Bird 3950 Main St, Vancouver
Uncle's Snack Shop 8180 Westminster Hwy, Richmond
Critics' Choice Signature Dish Awards, presented by Canola Eat Well
13 award-winning dishes in total | *first time winners of the Critics' Choice Awards component
(In alphabetic order of restaurant name)
1. ABALONE GINGER AND GREEN ONION HOT POT
Bamboo Grove Restaurant
6920 No. 3 Rd, Richmond (604) 278-9585
2. BC GEODUCK WITH SOFT SCRAMBLED EGGS
Bamboo Grove Restaurant
6920 No. 3 Rd, Richmond (604) 278-9585
3. DRY AGED CHINESE STYLE BBQ DUCK / QUAIL
Boulevard Kitchen & Oyster Bar *
845 Burrard St, Vancouver (604) 642-2900
4. BEEF FEATHER TRIPE WITH SICHUAN PEPPERCORNS
Chef Tony Seafood Restaurant
4600 No. 3 Rd #101, Richmond (604) 279-0083
5. GOLD COIN CHICKEN
Chef's Choice Chinese Cuisine *
955 W Broadway, Vancouver (604) 558-1198
6. STEAMED SOUP DUMPLING
Chef's Choice Chinese Cuisine *
955 W Broadway, Vancouver (604) 558-1198
7. BLACK SESAME BALLS
Heritage Asian Eatery
382 W Broadway, Vancouver (604) 559-6058
8. THE WHITE RABBIT
Kouign Café *
18 E Pender St, Vancouver (604) 633-8333
9. MIXED DEEP FRIED APPETIZERS
Memory Corner *
4651 Garden City Rd #1110, Richmond (604) 284-5434
10. SIGNATURE BEIJING DUCK
iDen & Quan Ju De *
2808 Cambie St, Vancouver (236) 477-7777
11. YUNNAN GHOST CHICKEN SALAD
Street Auntie Aperitivo House *
1039 Granville St, Vancouver (604) 345-9667
12. DONG BO PORK
Suhang Restaurant *
Unit 100, 8291 Ackroyd Rd, Richmond (604) 278-7787
13. SOUR CABBAGE FISH HOTPOT
The Fish Man
8391 Alexandra Rd #1170, Richmond (604) 284-5393
[ 2020 Chinese Restaurant Awards ]
Critics' Choice Signature Dish Awards, presented by Canola Eat Well
12 award-winning dishes in total | *first time winners of the Critics' Choice Awards component
(In alphabetic order of restaurant name)
1. STEAMED SCALLOP & PEA TIP DUMPLING
Dynasty Seafood Restaurant
108-777 W Broadway, Vancouver (604) 876-8388
2. SWEET & SOUR PORK TENDERLOIN
Emperor's Kitchen *
Ground Floor, 8511 Alexandra Rd, Richmond (604) 279-9997
3. VITASOY FLAVOURED CREAM PUFF
Little Fox Bakehouse *
8181 Cambie Rd # 1180, Richmond (604) 231-8131
4. KUNG PO LOBSTER/PRAWN, SWEETCORN & WATER CHESTNUT CAKE
Mott 32 (Temporarily closed)
1161 W Georgia St, Vancouver (604) 979-8886
5. CHEF'S ALASKA KING CRAB SIGNATURE MENU
New Fishport Seafood Bistro *
620 SE Marine Dr, Vancouver (604) 323-1318
6. CHIU CHOW STYLE OYSTER PAN CAKE
New Mandarin Seafood Restaurant *
4650 Gladstone St, Vancouver (604) 336-9388
7. TRADITIONAL STEAMED DUMPLING SAMPLER
Nine Dumplings *
204-1610 Robson St, Vancouver (778) 246-1199
8. INDIVIDUAL STEAMED BLACK COD IN BAMBOO LEAF
Prince Seafood Restaurant *
2881 Grandview Hwy, Vancouver (604) 430-6808
9. EXQUISITE SILVER SOUP BASE
The Dolar Shop *
5300 Number 3 Rd, Richmond (604) 370-7077
10. TORAFUKU BEEF NOODLE SOUP
Torafuku *
958 Main St, Vancouver (778) 903-2006
11. XIN JIANG BRAISED CHICKEN AND POTATO PLATTER WITH BIANG BIANG NOODLES
Xi'an Noodle Restaurant *
4351 Number 3 Rd, Richmond (778) 654-4566
12. SHANGHAI MOON CAKES
Z&W Shanghainese Kitchen *
2126 W Broadway, Vancouver (604) 423-2999
Black Badge Ghost Unveiling
Consumer Electronics Show 2020
CES is the world's gathering place for all those who thrive on the business of consumer technologies. It has served as the proving ground for innovators and breakthrough technologies for 50 years — the global stage where next-generation innovations are introduced to the marketplace.
Owned and produced by the Consumer Technology Association (CTA)®, it attracts the world's business leaders and pioneering thinkers.
Polar Bear Swim Celebrate the 100th anniversary of the Polar Bear Swim
A polar bear plunge is an event held during the winter where participants enter a body of water despite the low temperature. In the United States, polar bear plunges are usually held to raise money for a charitable organization. In Canada, polar bear swims are usually held on New Year's Day to celebrate the new year.
Statement by International Monetary Fund Managing Director Christine Lagarde on her Nomination as President of the European Central Bank
Christine Lagarde, Managing Director of the International Monetary Fund (IMF), issued the following statement today.
"I am honored to have been nominated for the Presidency of the European Central Bank. In light of this, and in consultation with the Ethics Committee of the IMF Executive Board, I have decided to temporarily relinquish my responsibilities as Managing Director of the IMF during the nomination period."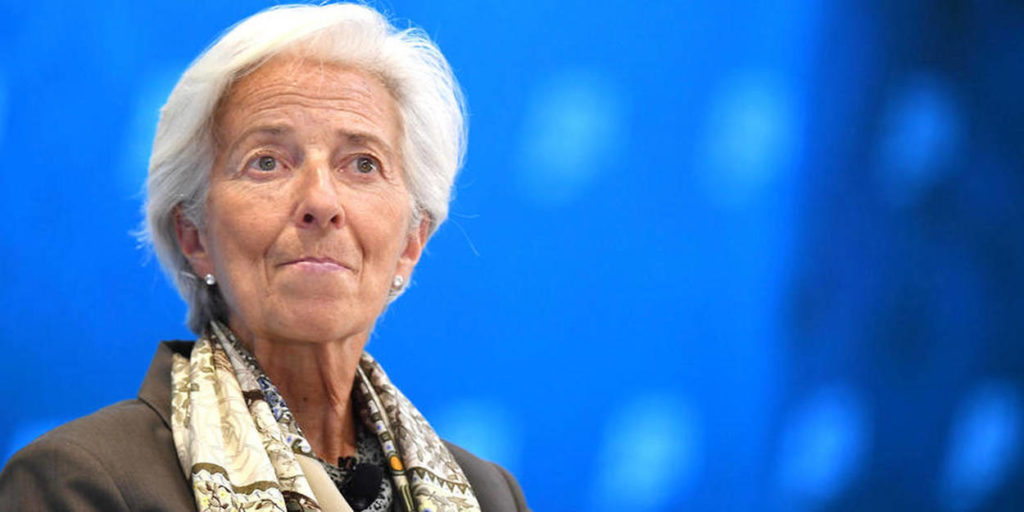 MF Executive Board Concludes 2019 Article IV Consultation with Canada
On June 19, 2019, the Executive Board of the International Monetary Fund (IMF) concluded the Article IV consultation [1] with Canada. The 2019 Article IV focused on policies to secure sustainable growth and a resilient financial system.
Growth has slowed to a more sustainable level following the stellar pace set in 2017. Several rounds of macroprudential measures, provincial and municipal tax measures, and tighter monetary policy have contributed to a reduction in housing-related financial stability risks. Private consumption and residential investment have decelerated, and a slowing global economy and low oil prices have dampened exports and business investment. A deal to overhaul NAFTA has been signed and awaits legislative approval, but trade tensions between the U.S. and its major trading partners continue to cast a shadow over the outlook.
Real GDP growth is projected to slow to 1.5 percent in 2019 and rise again in 2020 as the effects of a temporary slowdown in oil-related activity fades. Demand for exports will be supported by a robust U.S. economy and reduced uncertainty related to the approval of USMCA, contributing to a narrowing of the current account deficit. Business investment is expected to benefit from the new federal tax provision on investment expensing, while oil pipeline constraints will continue to weigh on investment in the energy sector. Over the medium-term, weak external competitiveness, low productivity growth, and population aging will limit potential growth to around 1.7 percent.
Risks to the outlooks are tilted to the downside. A key domestic risk is a sharp correction in the housing market, particularly if accompanied by a rise in unemployment and a collapse in private consumption, which could spark additional risks to financial stability and growth. External risks include a larger-than-expected global growth slowdown, a sharp tightening of global financial conditions, or an escalation of trade tensions between the U.S. and its major trading partners, which could include USMCA failing to get legislative approval. Against this backdrop, Canada should persevere with policies that preserve financial stability and focus efforts on supporting long-term growth.    

Executive Board Assessment [2]
Directors commended the Canadian authorities for their sound management of the economy and progress in reducing financial sector vulnerabilities. They noted that growth has slowed to a more sustainable level and inflation is well contained. The economic outlook is nevertheless susceptible to risks, including from housing market imbalances, high household debt, and continued trade tensions. Going forward, it would be important to rebuild policy buffers, preserve financial stability, and boost productivity and competitiveness.
Directors agreed that fiscal consolidation should remain gradual and growth-friendly. They welcomed the authorities' commitment to preserve Canada's low debt advantage and recommended using unexpected fiscal savings to reduce deficit and debt. They encouraged provinces with high deficits or high debt to make the necessary fiscal adjustment. Many Directors saw the benefits of well-designed fiscal rules in strengthening the credibility and transparency of the fiscal framework, although a number of Directors noted that, given Canada's sound fiscal management, an explicit fiscal rule has limited value added and could limit the ability of fiscal policy to respond to shocks. Directors concurred that if downside risks materialize, automatic stabilizers should be allowed to operate fully. They welcomed ongoing efforts to review key elements of the tax system, with a view to enhancing its efficiency and competitiveness.
Directors supported the current accommodative stance of monetary policy. Given the balance of risks and uncertainty around the outlook, they agreed that monetary tightening should proceed with caution, guided by incoming data.
Directors noted that macroprudential measures have mitigated housing-related risks to financial stability. They encouraged the authorities to stand ready to adjust macroprudential tools if needed, and to harmonize provincial and municipal tax measures into broad-based tax measures targeted at speculative activity more generally. Supply-side policies to improve housing affordability would help address housing imbalances on a more durable basis.
Directors welcomed the assessment that the overall financial system is healthy and resilient. They also noted that the informal framework for systemic risk surveillance and crisis management has served Canada well. While acknowledging that there is no one-size-fits-all solution, Directors encouraged continued efforts to modernize the arrangement, and strengthen microprudential oversight and safety nets along the lines of the FSAP recommendations. They welcomed Canada's voluntary participation in the Fund's enhanced governance framework on the supply and facilitation of corruption. They looked forward to further progress on strengthening the AML/CFT and anti-foreign bribery frameworks.
Directors welcomed the authorities' commitment to trade diversification and free trade. They commended Canada for leading an international effort to improve the multilateral trade system and for rapid ratification of the Comprehensive and Progressive Agreement for Trans-Pacific Partnership. Directors encouraged all levels of government to work together to continue reducing internal trade barriers and better facilitate infrastructure investment.
Directors stressed the importance of boosting long-term growth. They supported recent initiatives to promote a more productive workforce, a more competitive business environment, and greener infrastructure.
The world-renowned pianist Lang Lang married his beloved, Gina Alice in a lavish ceremony on the 2nd of June in France
A private ceremony was held at the Shangri La hotel in Paris followed by a grand diner at Le Chateau de Versailles.

Being the cultural ambassador of Le Chateau de Versailles, it was natural for Lang Lang to host his friends and family in this exceptional surrounding.

Among the guests of Gina Alice and Lang Lang who shared the celebration with them, were John Legend and his wife Chrissy Teigen, Placido Domingo, HRH Prince and Princess Michael of Kent , the Chinese Ambassador to France, Mr Yan, Bernard Arnault, President of LVMH, his wife Hélène Mercier-Arnault, Bianca Jagger, Jason Wu, tenor Jonas Kaufmann, Robert Smith and his wife Hope Dworaczyk, owner of Steinway, John Paulson, Sir Howard Stringer, Yannick Bolloré, French film composer Alexandre Desplat. Chinese celebrities like Jay Chou, Kun Ling and the artists Cai Guoqiang, Fan Zeng, Yan Peimin, TangKa master Niang Ben, Huang Xiaoming.

The highlight of the ceremony was the emotional moment when they exchanged their vows under the blessing of all the present guests. It was also more than magic when during the dinner, Lang Lang and his Gina Alice surprised everyone by playing a Bach piano piece together.

Lang Lang and his bride Gina Alice met in Berlin few years ago. Being both musicians, they have a lot of respect for each other and share the same passion. 

Gina Alice, graduated from the Hamburg School of Music and Drama, has been studying and playing piano since the age of four. Her outstanding talent has enabled her to become a prestigious international artist.

Gina Alice is multilingual and speaks fluently German, English, French, Korean and Chinese.

After this wedding it is reported that Lang lang and his newly wed bride will return to Lang Lang home town Liaoning in China.

We wish Lang Lang and Gina Alice a wonderful and happy life. 
Interior Design Show - Vancouver
The Pacific Northwest has experienced a major design boom that has been especially embraced in Vancouver, where the design community has become vast and mighty.  Now in its thirteenth year, IDS Vancouver has had the utmost privilege of seeing it grow, supporting its members and championing it the world over.
Vancouver Fashion Week Spring/Summer 2018
Vancouver Fashion Week kicked off on September 18, 2018 for their Spring/Summer season with a snippet preview of the sixteen designers showcasing this week, with each bringing in one key look. From vibrant colourful polka dot patterns to all black textured layers, the cross section was anything but standard. These outfits were a great tease of what's to come. The featured designers who showed full lines were Charly Thorn, Aiki District, and Nozomi Kuwahara.
The colours of the sea and the use of transparencies are clear inspirations behind Charly Thorn's Spring/Summer 2018 collection. Tropical prints of green palms are highlighted on white canvas, accented with polished metallic espadrille shoes. This feels like a resort collection perfect for your next holiday.
Aiki District plays with neutral colors and sheer fabrics, mixed with baby blues and highlights of vibrant red. There was a juxtaposition of structured pieces featuring exterior pockets and visible tailoring, mixed with softer more fluid silhouettes and laser cut attributes.
Playful and fluorescent colour are words best describes Nozomi Kuwahara's latest collection. With a mix of geometric patterns and voluminous sleeves, her look is street style ready, with "Harajuku"-esque models rocking fluro-plaited pigtails. Mini jersey t-shirts are stitched together in a motif which was developed throughout.
The Abbotsford International Airshow
Designated Canada's National Airshow, the annual aviation festival provides spectators an opportunity to watch one of the finest aerobatic performances in the world. People gather from around the globe to look to the skies in awe. Ranked among one of the Top Ten Airshows in the world by USA Today in 2013 – the event continues to distinguish itself. Through aviation excellence, aerospace advancement, and community participation, the Abbotsford International Airshow remains one of the best aviation events on earth and in the sky.
The event is located at the Abbotsford International Airport YXX, approximately 40 km East of the Port Mann Bridge just off the Trans-Canada Highway.
Vancouver Pride
The Vancouver Pride Society brings together members of the Gay, Lesbian, Bisexual, Transgender and Two-Spirit community, their friends, allies and supporters in celebration of the unique spirit and culture of the LGBTQ2+ community by producing quality, inclusive events such as the Pride Parade and Festivals.
2017 marks the 39th Anniversary of Pride in Vancouver, the most diverse festivals and parade in the city! Pride 2017 includes over 20 events throughout the summer.
The VPS is committed to making all events as accessible possible, and 2017 will be the most accessible Pride yet. ASL interpretation will be provided by BC Rainbow Alliance of the Deaf at all Official Event sites. This year we are partnering with VocalEye to provide descriptive narration on the parade route for the blind and partially sighted. For a full list of accessibility services, visit: vancouverpride.ca/accessibility